Edwardian Conservatories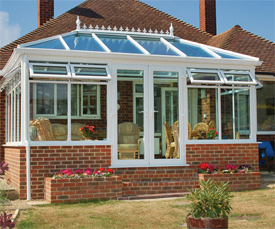 The Edwardian Conservatory is distinctive with simple uncomplicated lines making it very popular today as it can be incorporated into a multitude of contemporary living areas.
One of the most popular aspects of the Edwardian design is that it maximizes floor space, giving you more freedom to personalize the interior of the conservatory. The additional space also makes it perfect for entertaining guests.
With its rectangular shape it cuts no corners and maximizes the usable space inside the conservatory. Victorian conservatories although being a popular design cuts of the corners.
This makes the Edwardian conservatory a really handy shape for laying out furniture and plants, with no wasted space.