Centiam Sunrooms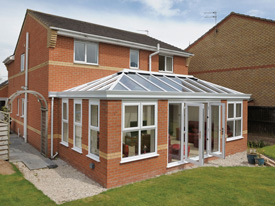 A Sunroom puts you as far in to the garden as it can whilst keeping you warm and comfortable indoors. Day to day living, occasional reading, having breakfast or stepping up to a fully furnished lounge or home office is instantly possible. And we can help you with the design layout to ensure your use is well thought out and practical, whilst looking elegant and striking.
When a Sunroom is built with our steel base system you will usually be up and running, fully built, in just a couple of days.
Our sun room packages surpass normal PVC sunrooms in quality, structure and durability.
These sun rooms are more an extension to your property with brick walls, rooftiles and all windows and doors colour and style coded to match your existing property.
Options
Double Pitched Roof with a Hip End (also known as an Edwardian style conservatory)
This roof can be converted to Decralite roof with the same shaped roof as existing dwelling or a gable end can be added to change this roof to a double pitched roof with gable end. The minimum pitch is 10 degrees.
Gable End Roof
This roof has a long ridge down the centre, which gives continuous height. It is also a good roof for installing Velux windows. This roof is available for replacement or new-build and the gable can be solid pvc or glass. The minimum pitch is 15 degrees.
Porches
These can either be gable end, double pitched with hip, or lean-to. They are available as replacement or new-build. The minimum pitch is 15 degrees.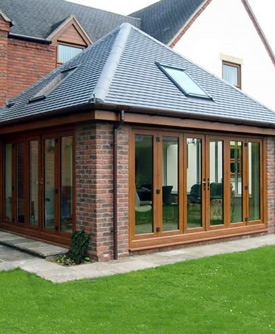 Mono Pitched Roof (also known as a Lean-To style)
These are available as replacement or new-build. The roof can have gable ends or hips. The minimum pitch is 15 degrees.
The foundations will be the same as your existing house and inspected by Building Control before being installed. This gives you the option of potentially adding another storey to this project at a later stage. Prices for a standard 10ft x 10ft sunroom start at £9995.00.
All our Sunrooms and Conservatory Conversions come with a plastered ceiling. You can have either a centre pendant light or brushed chrome down-lights. You can have the ceiling the same shape as the roof or a flat ceiling with ceiling joists. The latter is by far the best choice for insulation, as 400 mm of mineral wool can be installed. This meets with current Building Regulations.