Victorian Conservatories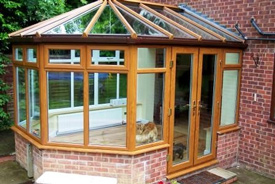 Victorian conservatories are regarded by many as the most traditional style of conservatory. From slight frames and thin glass to UPVC and double glazing, the Victorian style conservatory looks as good now as it ever did back in the day.
A Victorian style conservatory will not only compliment a period style home but add a certain uniqueness to the more modern built house. Inside, décor, textiles and accessories can create the perfect look, completing the add on.
Centiam Victorian Conservatories are available in either 3 facet or 5 facet designs, giving you the customer the option to decide on the perfect model. Doors can be altered to a sliding patio door as opposed to the traditional French door. A more modern approach recommends the wide bay or Spanish Victorian conservatory which has a wider front bay segment allowing you to maximise floor usage.